The 7 Best Closet Kits to Buy in 2018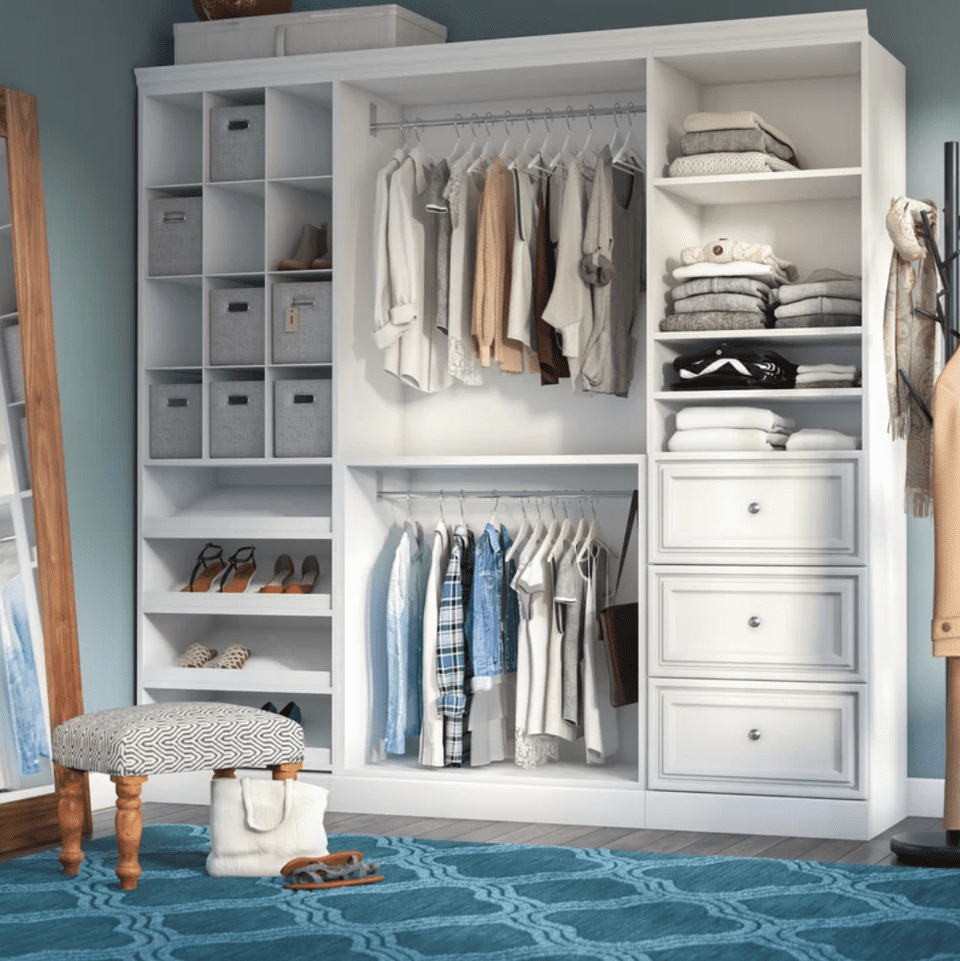 Conquering closet chaos requires a can-do attitude and the right closet kit. It's easy to let stacks of sweaters, mountains of jeans, and a row of dresses or slacks become a jumbled mess that makes getting ready a challenge and putting away laundry a major stress. You might reach in, grab an item, and slam the door before anything comes tumbling out.
A closet kit can help solve these problems and more. Whether you have a reach-in closet or a larger walk-in closet, there are many different types of closet kits that provide additional shelves and garment rods to expand your storage and increase your hanging space in a way that will organize clothes and accessories. Some closet kits are part of a larger system with add-on's available to meet specific storage needs. Others are standalone units that require little modification. Some closet kits have wire shelves which allow for adjustability but may not hold as much weight as other kits with solid shelves and braces.
Find the right closet kit for your situation and wardrobe needs, and you'll enjoy a stress-free and organized closet that makes every day better. Instead of a dark, shadowy space hiding your clothes, one of these best closet kits can make your space look so good that you never want to shut the door!
Best Overall: ClosetMaid Impressions Closet System

Whether you have a reach-in closet or the luxury of a walk-in wardrobe, you will love the tidy, organized look made possible with the ClosetMaid Impressions Closet Kit.

This sturdy MDF-board system uses solid shelves and rods to provide plenty of stacking and hanging space for your clothes, shoes, accessories and more. The Impressions system has eight center shelves and three clothes rods, with five additional shelves. The great thing about this particular organizer system is its ability to fit into a reach-in closet to make the most of limited space or to organize a larger walk-in closet.

The ClosetMaid system also offers many interchangeable storage solutions and configurations, so this unit can be expanded or modified as your wardrobe or closet situation changes. Many users have commented that this organizer took an investment of time to assemble, but agreed that the results were a sturdy, attractive closet organizer. You will want to be careful not to damage the melamine finish during assembly. While this particular closet kit is neither the most or least expensive model available, it represents a great intersection of value and price for any type of closet.

Best with Wire Shelves: Rubbermaid Configurations Deluxe Closet Organizer

Buy on Amazon

Buy on Home Depot

If you're looking for the versatility offered by a closet organizer with wire shelves, the Rubbermaid Configurations Deluxe Closet Organizer is a top choice.

With this wire shelf closet organizer, you can put away your saw and forget about cutting shelves to size. Thanks to telescoping rods and expanding shelves, simply buy the right size range for your closet then adjust to fit your space. Unlike solid shelf systems where you may need to cut pieces to size, the Rubbermaid Configurations system is ready-to-use in a variety of closet sizes.

Thousands of happy users praise this wire closet organizer for it's easy installation and many configurations. This closet organizer is equally useful in a reach-in or walk-in closet. Plus, the abundance of Rubbermaid closet kit accessories will make the system even more personal to your wardrobe needs.

Best Budget: ClosetMaid Fixed Mount Closet Organizer

Buy on Amazon

Buy on Walmart

Buy on Lowe's

If you're looking for a little closet organization while keeping costs down, the ClosetMaid Fixed Mount is a basic closet kit that doesn't cost big bucks.

ClosetMaid has been in the closet organization game for a long time, and this no-frills version of their organizer kit will deliver a sure victory over closet chaos. The Fixed Mount Closet Organizer doesn't have the adjustable shelves and brackets that some other ClosetMaid systems have, but for a small price tag in comparison, this budget organizer is a great choice.

The Fixed Mount Organizer by ClosetMaid may not be as sturdy as closet organizers with a wall-mounted rail system, but many people say it's weight capacity seems to be sufficient. However, if you have plans to store a lot of items on the shelves or hang heavy garments like winter coats from the rods, you may want to look at other closet organizers. But for a simple closet organizer that is well-made and budget-friendly, the ClosetMaid Fixed Mount Organizer is a great start.

Best for Walk-In Closets: Billington 85.8″W Closet System

If you're looking to really add the 'wow factor' to your walk-in closet, a closet organizer like the Rebrilliant 858W Closet System should do the trick.

As a cross between a closet kit and a wardrobe, the Rebrilliant Closet System is a furniture-grade piece that has abundant shelving, a built-in shoe rack, and two garment bars to meet your needs. The unit itself is built from particle board and laminate, with a melamine finish that won't pull or snag clothing. Despite the fact that it is not solid wood, users have found the unit to be extremely sturdy and well-made. Many closet organizers that are similar in style also use particle board construction to avoid excessive weight and cost considerations. This particular organizer stands out thanks to its three built-in drawers and a shoe rack. Adding these practical additions will keep your walk-in closet uncluttered and free up space.

This closet organizer will make your walk-in closet feel like a wardrobe oasis. With its high-class looks, you can transform your closet into a dressing room where all of your clothes, shoes, and accessories are neatly stored and displayed. Those who have installed the Rebrilliant 858W Closet System in their home praise the look and functionality of this organizer in comparison to much more expensive custom closet organizer systems.

Best for Kids: Little Seeds Grow with Me Closet System

Are you looking for a closet kit to keep your little one's wardrobe in order? The Little Seeds Grow with Me Closet System is a great solution.

This closet organizer features adjustable garment rods and seven shelves, plus a shoe rack to meet your little one's wardrobe needs. What is especially notable about this closet organizer for kids is the low height of several of the garment rods. While many closet organizers place the rods high above shelves — making them inaccessible to kids — the Little Seeds System has at least three rods that are at more child-friendly heights.

Parents that have installed this closet kit in their child's closet comment on the sturdy nature and quality finish of this product. To really keep your child's clothes in control, the Little Seeds Grow with Me Closet System earns our top recommendation.

Best Solid Wood: John Louis Home Simplicity Closet System

Buy on Amazon

Buy on Home Depot

If you want a solid wood closet organizer, the Simplicity Closet System from John Louis Home is the best combination of value, quality, and price.

The Simplicity Closet Organizer is made from solid pine hardwood, and is crafted in the style of a quality piece of furniture — but it's made to hold your clothes. And with three garment bars, six shelves, and a shoe shelf, it performs this function well. The organizer is not as customizable as wire shelf or modular closet organizers, but the solid wood construction is attractive and designed to last for years of use.

This closet organizer is rated for 400 pounds. Virtually everyone that purchases the Simplicity Closet System agrees that it outshines wire shelving units in terms of appearance and functionality — but that it does take time to install. So be prepared to spend some time installing the unit to get it just right, or hire a professional. But for the reasonable price tag and all wood construction, the Simplicity Closet System from John Louis Home is a sure winner.

Best Modular Closet Kit: Easy Track Deluxe Starter Closet System

If you're looking for a modular closet system, the Easy Track Deluxe Starter Closet System is a popular choice thanks to its affordability and abundant options.

The Easy Track system differs from wire closet shelving systems, which can allow small items to slip through and prove flimsy under heavy weight. Instead, the modular Easy Track system has solid shelves and abundant garment rods to make the most of your space.

This closet organizer is similar to some other popular modular systems but offers a more affordable price tag. Users really appreciate the quality of the Easy Track system, plus the many accessories that can customize the way the organizer functions. If you are looking for a modular closet system, but don't want to spend a small fortune, the Easy Track Deluxe Starter System is the best option.