The 8 Best Supplies for Doing the Laundry in 2018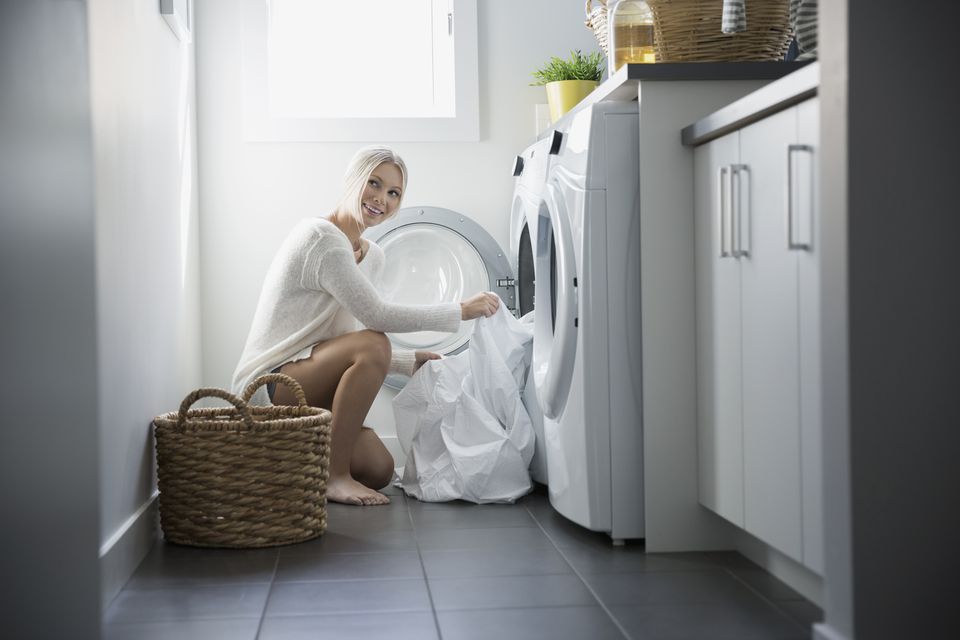 There's nothing quite like the feeling of putting on freshly laundered clothing or slipping into bed between sheets that are still warm from the dryer. While doing laundry might still be a chore, there are a few things that can make it a little bit easier. Using the best quality products is the first step to making sure your clothes come out fresh and clean. Below, we've rounded up some of the best laundry products available now from detergents to laundry baskets and dryer sheets to clothes hangers. Stock up on these items before laundry day, and we promise the chore won't seem so bad.
Best Laundry Detergent: Tide Original Scent HE Turbo Clean Laundry Detergent

Tide is the gold standard when it comes to doing the laundry because it cleans clothes efficently and has an original scent that many have come to associate with clean over the years. This formula is acceptable for HE machines and you'll get six times the cleaning power of other leading detergents. Besides getting the dirt out it also fights odors making it a great buy for anyone who sweats a lot or has a growing family.

Best Fresh Smell Laundry Detergent: Gain Flings Original Laundry Detergent Pacs

Buy on Amazon

Buy on Walmart

Buy on Jet

There are many comparisons between the top Tide pick and the Gain Flings Original Laundry Detergent Pacs. The highlights of these being: A powerful 3-in-1 formula, a strong scent, a POD design and a high-efficiency design. These items aside, the Gain Flings Original Laundry Detergent Pacs are slightly more expensive and also contain the original Gain smell, giving them a slightly different appeal than the Tide PODS.

Gain claims that their product adds up to 50% more scent to clothes than other competitors. It does this with its added ingredient that fight stains, while the Febreze concentrate removes odors. When it comes down the the fragrance, most say it's simply a matter of scent preference (re: those who are fans of Gain really love this smell.) Of course, most of the critical reviews are from those who don't prefer the scent. Fans of the product also note that the Gain PODS add extra vibrancy to their clothes, in addition to removing tough stains. For these reasons, and those mentioned above, they're a fan favorite.

Best Drying Rack: CRESNEL Heavy Duty Stainless Steel Clothes Drying Rack

Whether you don't have a dryer in your house or you want to line dry a few choice pieces of clothing, a drying rack is an important staple to have in your home. This one from CRESNEL is a sturdy piece that measures 58" x 24" x 40", providing lots of room for your clothes to dry off (about a whole load to be exact). It's great for indoor or outdoor use because of its rust-proof stainless steel construction. You can fold it up easily to store when you're not using it. And it doesn't require any setup with tools when you first get it.

Customers have praised how strong and functional the piece is as well as the design. One of the complaints though is that even though the company claims it's rust-proof, some have had issues with it developing spots over time. It's recommended that if you live in a coastal area, wash and rinse the racks with mild soap and water occasionally so that the salt contents can be minimized in order to prevent rusting.

Best Dryer Sheets: Bounce Outdoor Fresh Dryer Sheets and Fabric Softener

Buy on Amazon

Buy on Walmart

If you want to leave your clothes extra soft, try these dryer sheets from Bounce, a number on seller in its category. Simply toss one in the dryer with your clothes to help control static, prevent wrinkles, and freshen clothing. Some people even use these around the house by tucking them in dresser drawers or even in gym bags for a fresher scent.

Fans of the product love the light and airy outdoor scent and the fact that it lasts long. But as always when it comes to smell, some have different preferences and therefore a minority of customers weren't as satisfied.

Best Hangers: Home-It 50 Pack Clothes Hangers

If most of your hangers are mismatched or from the dry cleaners, it might be time to upgrade your closet. When you're shopping for a matching set, consider this 50-pack of hangers from Home-It. Thanks to the velvety texture on the body of the hanger your clothes, even delicate tops, are less likely to slip off onto your closet floor. And because they're thin, you can increase the number of clothes in your closet by half. The shape of the hanger also prevents creases or shoulder dimples from developing while your clothes are hanging up.

Most customer gave the hangers a glowing review, saying they really do save space in the closet and prevent clothes from slipping off. Some critical reviews reported hangers breaking, but most customers agreed that they were a quality purchase.

Best Laundry Basket: Rubbermaid Configurations Custom Closet Laundry Hamper

Need a place to toss your dirty clothes until laundry day or tote everything to the washing machine? Finding the perfect laundry hamper can be a challenge. You want something that's sturdy, aesthetically pleasing, and reasonably priced. This one from Rubbermaid is all of the above, and is the bestseller in its category. It's made of canvas and can be easily cleaned, plus it's stain resistant. Measuring 23 inches high by 14 inches square, it also collapses when you need to store it.

Most reviewers would recommend this product to others. One customer said they appreciated that the product is so sturdy and can be easily cleaned. One pointed out that it might be a little small for a couple who does laundry once a week, but it's great for one person. It is also available for purchase in sets of two or three if you need additional hampers. Some have complained about the hamper losing its shape over time and getting moldy when wet towels are placed in it often, but overall, customers give it five stars.

Check out our other reviews of the best laundry baskets available on the market today.

Best Detergent for Delicates: TYLER Glamorous Wash

If you have delicate garments to hand wash in the sink, this is a great gentle detergent to use. According to the company, it is safe for silk, lingerie and items that would normally be dry cleaned. The formula, which has natural antibacterial properties, has a scent that mixes "herbal and citrus notes of rich amber, bergamot, lavender, and musk." When hand washing, the company recommends not soaking silk in the detergent for more than 30 minutes. The best part is that you can use this detergent in the washing machine too. Just use the delicates cycle and a mesh bag for the best results.

Many of the customers highly recommend this detergent, praising how well it cleans their clothing in addition to the scent. Of course, since it's a matter of personal taste, some critical reviewers weren't fans of the smell, saying it's too perfume-y. But if you like a scented detergent, give this one a shot.

Best Dryer Balls: Wool Dryer Balls by Smart Sheep 6-Pack

For those who prefer to use dryer balls over sheets, the top-rated Smart Sheep Wool Dryer Balls are the best ones to go with. Made from 100% premium New Zealand wool, these dryer balls soften your laundry naturally, without using any harmful ingredients in the process. Since they claim to last for "thousands of loads," to ultimately net out cheaper than traditional dryer sheets.

The majority of customers who tried the Smart Sheep Wool Dryer Balls were satisfied. Commenters say they are gentler on fabrics, quieter in the wash and reduce that dreaded static cling. Users also loved the added quality of being able to use essential oils on the balls to make their laundry smell fresher. Several expressed qualms about the initial odor they contain, but noted it went away quickly and didn't transfer onto their clothes. All of these things help make this product a highly-rated choice among those who prefer a dryer ball to a dryer sheet.