Tooth-Colored Fillings Offer Invisible Strength & Protection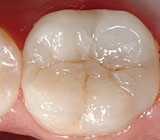 What if you had a filling — and nobody knew it was there? That's one of the best things about tooth-colored fillings: They match the color of natural teeth so well that it's almost impossible to tell you have one. But the true beauty of a tooth-colored filling isn't just on the surface. Let's look a little closer at the process of filling a tooth, and see what other advantages this type of filling offers.
After decay has been identified, and the area being treated has been anesthetized, the tooth is prepared to receive a filling. With a standard silver (dental amalgam) filling, it's usually necessary to "shape" the tooth by removing small amounts of otherwise healthy tooth material around the drilled area. These "undercuts" help hold the metal filling securely in place.
But tooth-colored fillings made of composite resin don't require undercuts to make a secure bond with the tooth. Instead, they form a physical and mechanical bond directly to the prepared tooth. Removing less material leaves the tooth stronger — meaning that over time, it may be less prone to chipping or cracking. It's a more conservative treatment for small to moderate-sized restorations that may lead to a better and longer-lasting result. Learn more by reading the Dear Doctor magazine article "Tooth-Colored Fillings."