What is sports dentistry?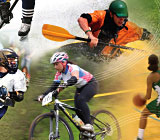 In sports, the challenge is to maximize the benefits of participation, and to limit injuries. The Sports Dentist should be concerned with providing proper injury prevention strategies and dental education. Prevention and adequate preparation are key elements in minimizing injuries that occur in sports. Properly conditioned bodies, well-fitting protective equipment, and correct techniques for physical contact during competition can help minimize oral-facial injuries.
The Academy for Sports Dentistry was founded in 1983 as a forum for dentists, physicians, trainers, coaches, dental technicians, and educators who are interested in exchanging ideas related to Sports Dentistry and the dental needs of athletes at risk of sports injuries. Activities include the collection and dissemination of information of dental athletic injuries and the encouragement of research on the prevention of dental injuries to athletes.