You Can Whiten Your Teeth at Home, but…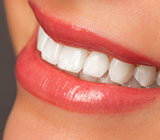 It is possible to whiten your teeth at home with over-the-counter (OTC) products you find at your local grocery or drug store, but is it your best option? While at-home applications are less expensive than a professional bleaching, you may find the whitening you receive in your dentist's chair is really worth the extra cost—both in terms of quality and longevity.
This consultation article on teeth whitening helps explain the difference between at-home and clinical bleaching, along with helpful advice on lengthening the "fade rate" of your new, brighter smile. Learn more in Teeth Whitening.