15 Ways to Use Patterned Wood in Your Home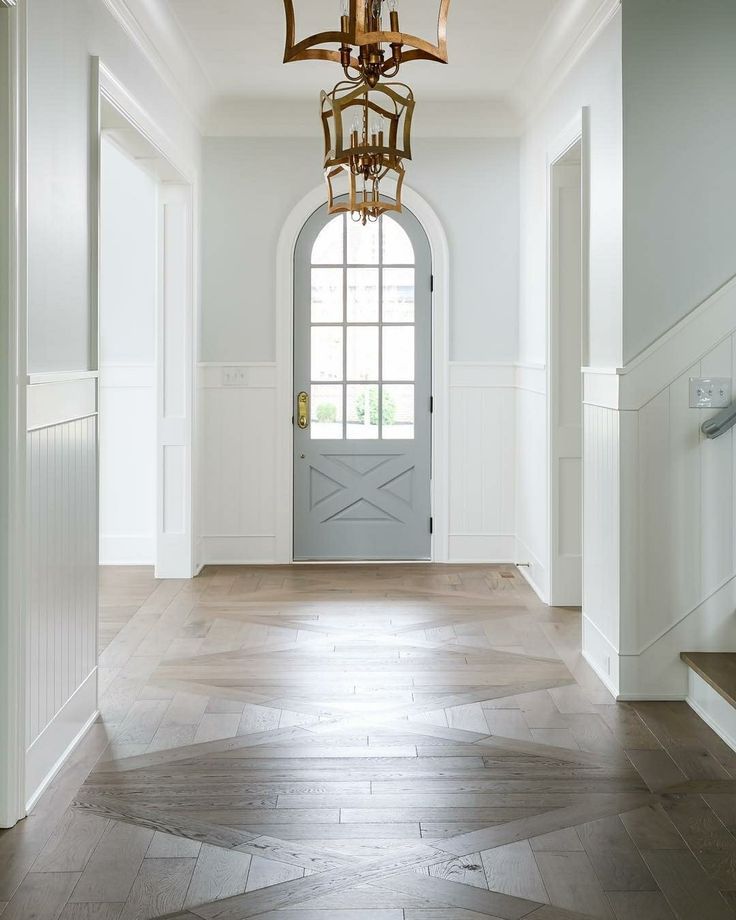 Over the past year, herringbone wood floors have surged in popularity. And it's not hard to see why – this fun twist on a classic wood floor is everything we love about home decor. It's stylish and trendy, and shows a lot of personality while adding texture and interest to a room.
If you want to take it a step further, there are endless ways to add interesting, intricate woodworking elements to your home. From beautiful wooden art pieces to stunning inlaid flooring, we've rounded up the most fun and versatile ideas we've seen this year. This entryway was spotted on Trista Hill's Pinterest page, and it's giving us some serious home envy. The diamond pattern expands the space, making it feel even more open and light-filled than it already is. Scroll through for even more ideas we love.

A Beautiful Headboard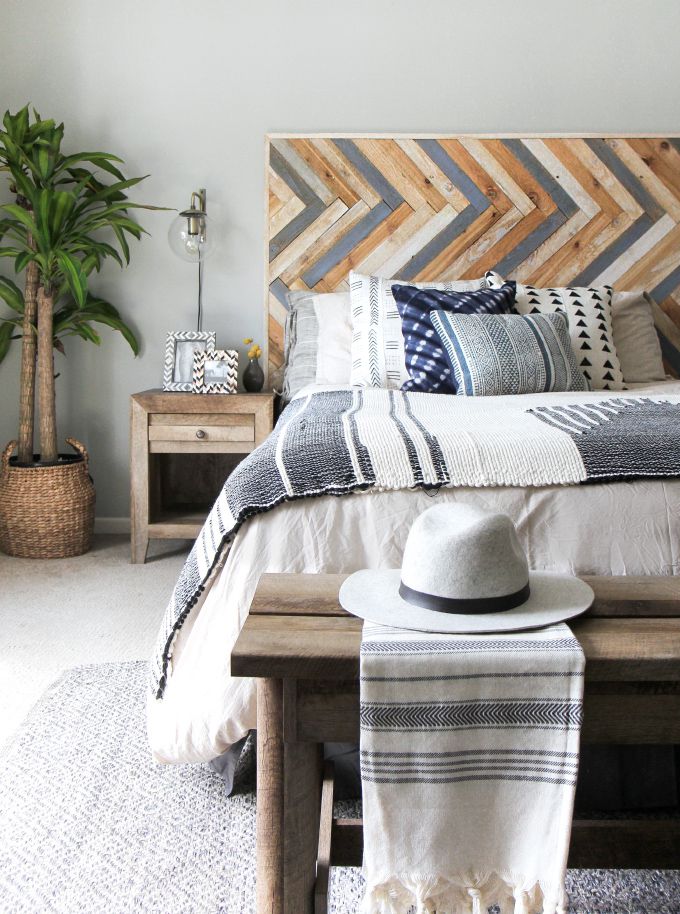 If laying new floors is too much work for you, this herringbone headboard from I Spy DIY will give you the same look for a lot less effort. There's just something about a wooden headboard that makes a bedroom feel adult and rustic at the same time. We love how this herringbone look uses different pieces of colored wood to make it pop—and still tie into the rest of the room's decor. You can even pair it with some stunning wood-hewn artwork to round out the whole look.
Herringbone Wood in the Kitchen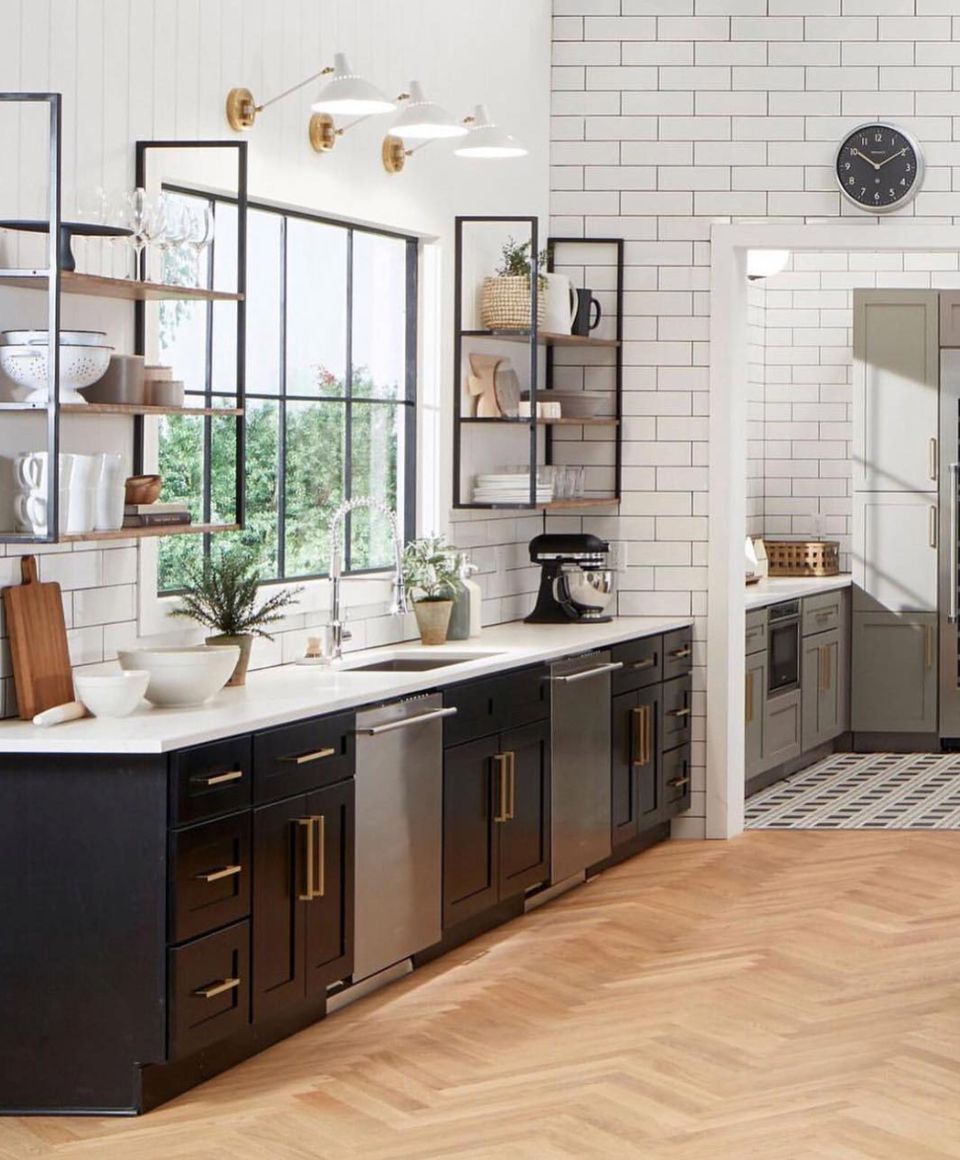 Wood flooring isn't just for your living space. Check out this updated kitchen from decoristofficial that incorporates a herringbone-style wooden floor to give it a modern appearance. If you're scared to try wood flooring in your kitchen, don't be. As long as you prep and seal the wood correctly, they can work beautifully in a kitchen and stand up well over time. Because this kitchen has so much tile work on the walls and backsplash, adding a wood floor helps to break up the look.
Try Stencils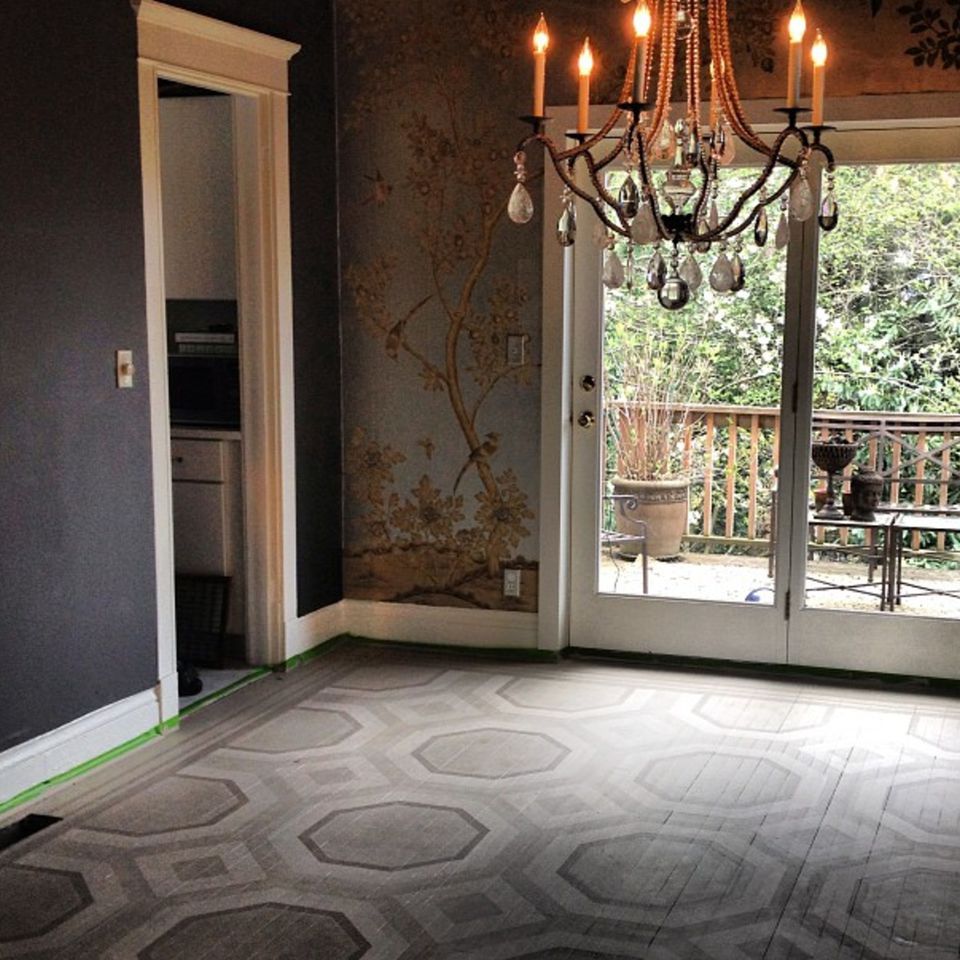 Though this look isn't truly a woodworking design, it provides the same effect with slightly less effort. Seen on Codordesign, this wood flooring uses stencils and stain to give an inlaid appearance at a much lower cost. We love this idea during a renovation if you need to spruce up old floors but aren't ready to update the whole house just yet.
Start Small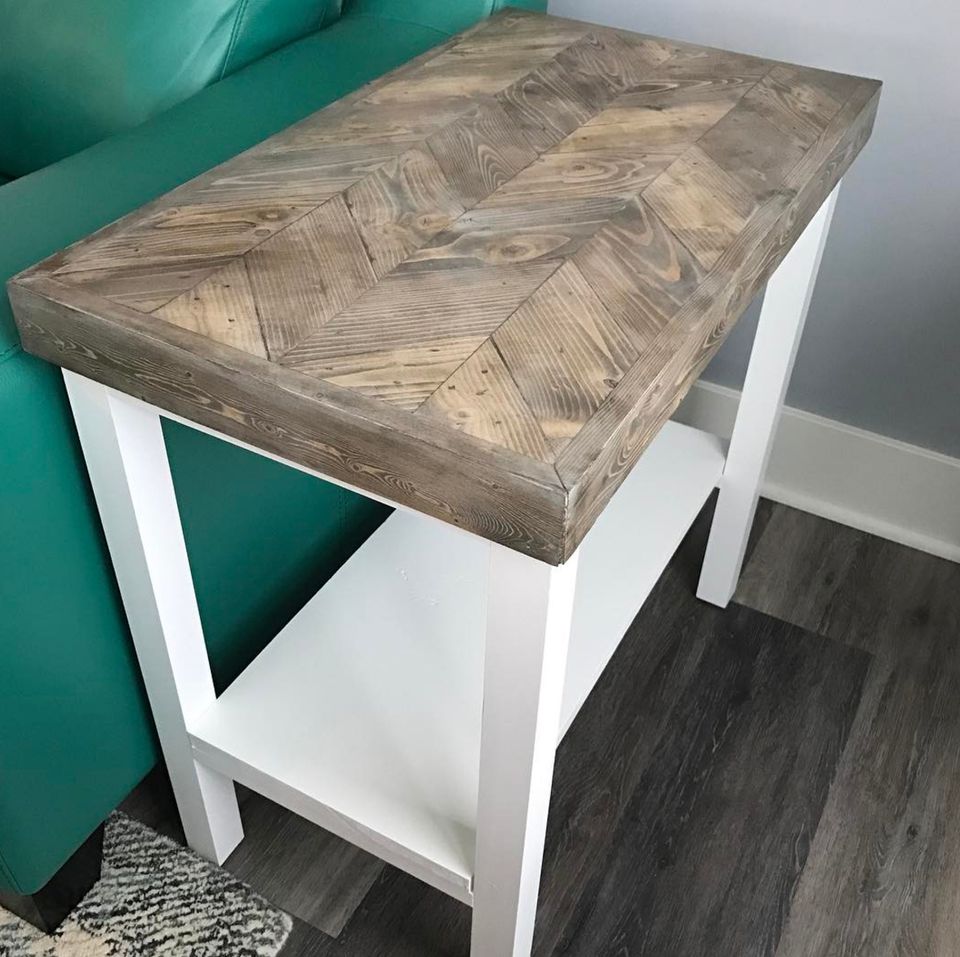 This side table from seanessabidin is a great way to introduce the wood herringbone look into your living room without installing entirely new floors. This is a great weekend project and a smart way to use up old wood pallets. Pair with the perfect modern reading lamp, and voilà: a wood piece that will stand out in any living space.
Look Up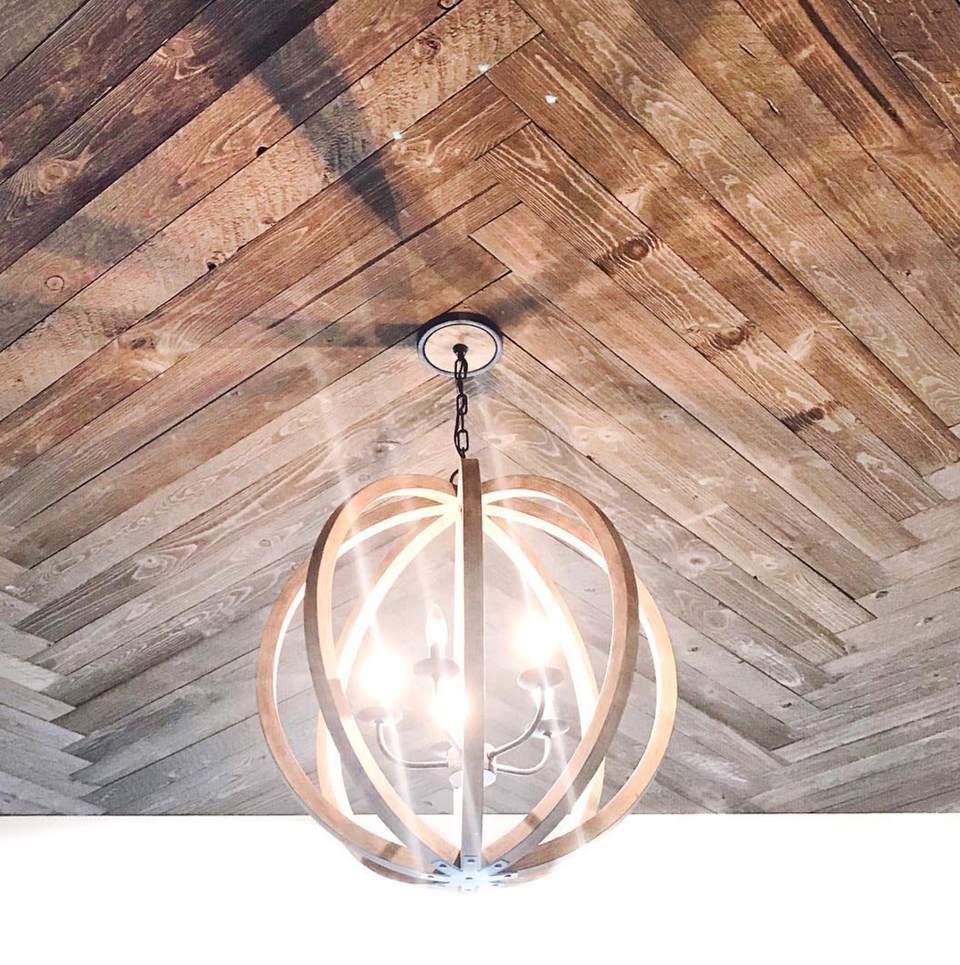 Patterned floors not your style? This amazing chevron ceiling from jenn_atxrealtor is the perfect way to incorporate wooden patterns into your home in an unexpected manner. Adding a wooden, planked ceiling to a sunroom, den or living space is an easy way to add architectural detail without bringing in a contractor. Your "fifth wall" is often a neglected surface in your home, but it's a great place to start when considering patterned woodworking.
White-Washed Wood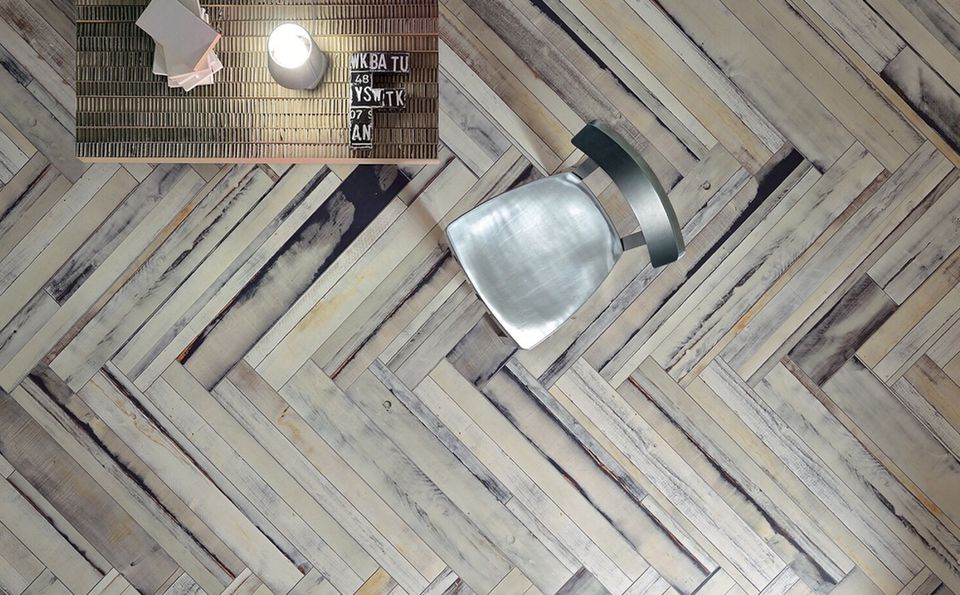 This herringbone floor from rumordesigns is actually made of tile, not wood, but provides a similar look and feel as the real thing. If you want to stick with solid wood, you can recreate this white-and-gray washed look by adding stains to your wood flooring. We love this idea in an enclosed porch or laid in a sunny, open kitchen.
Try a Little Paint