35 Colorful Interior Design Ideas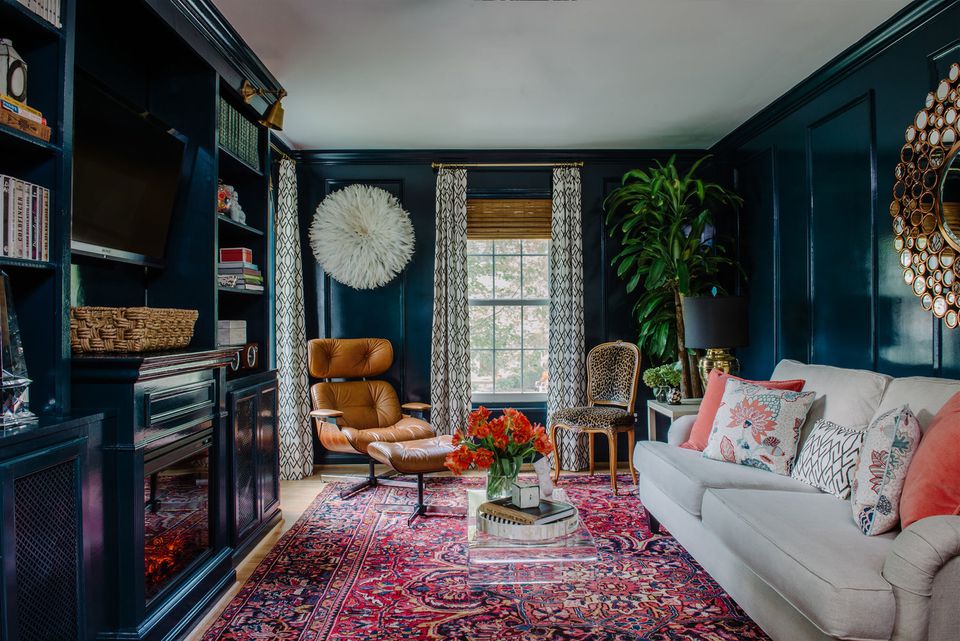 While neutral color schemes inspired by Scandinavian décor are a big thing, beautifying your home with splashy hues are now on trend. But if you are not sure how to add pops of color to your space you came to the right place. The following ideas share tricks and ideas for reinvigorating your décor with a rainbow of hues.
Bright Bathroom Color Schemes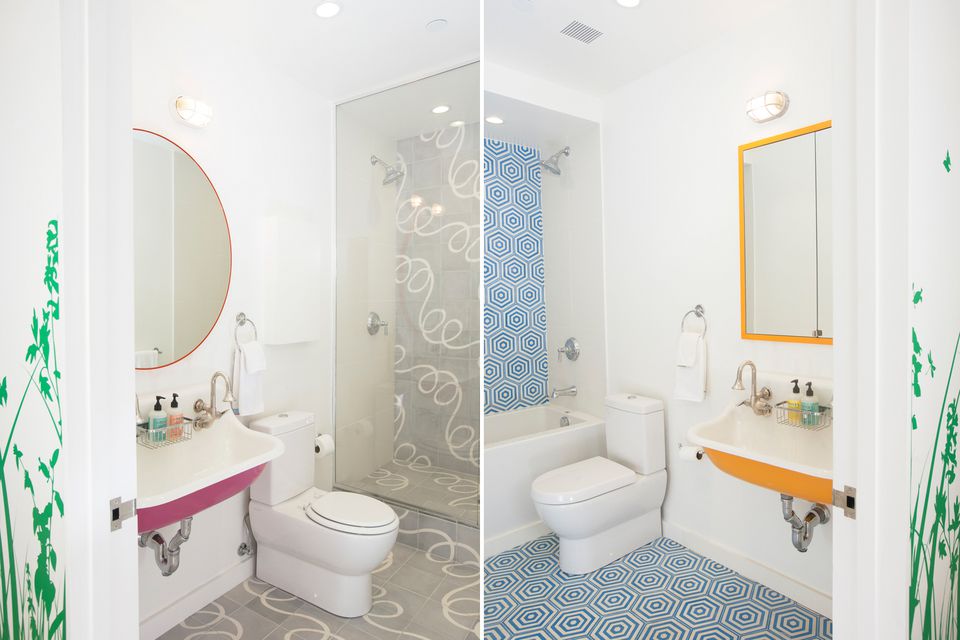 Dipping your toe into a sea of color for the first time at home can be intimidating. That is why we think the easiest way to get started is by adding a bright hue or two to the smallest spot in your abode. Illustrating our point are the pint-size bathrooms in this New York City apartment remodeled by Studio DB. The cheerful spaces combine graphic tile with fixtures and accessories in electrifying shades of yellow, pink and red.
Related: 33 Small Shower Ideas for Small Homes and Tiny Bathrooms
Abstract Prints and Sophisticated Shades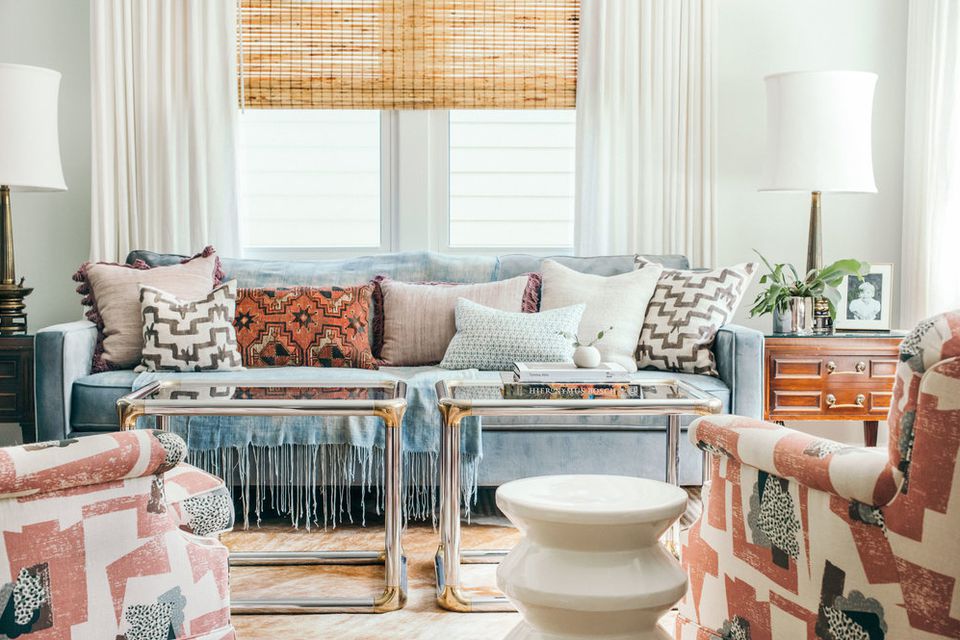 If your minimalistic side is not onboard with bright, crayon-like colors, consider mixing things up with abstract prints and sophisticated shades. A pale blue sofa anchors this bohemian-inspired living room by Logan Killen Interiors. Pillows and two Memphis print chairs spice things up with soft hues and colorful patterns.
Jewel Tone Living Room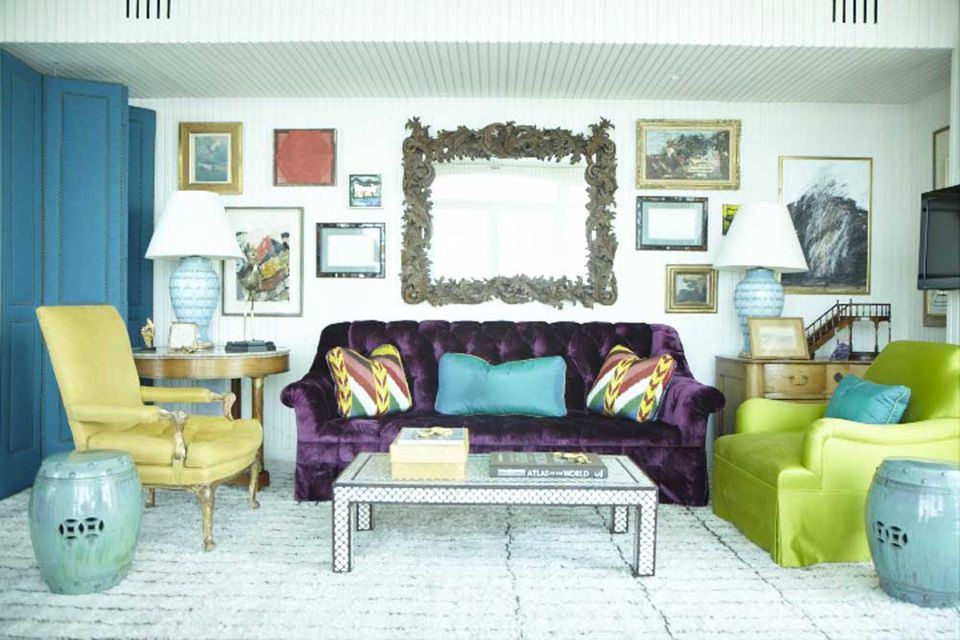 Jewel-toned furniture adds cozy glamour to this quirky and chic living room by iconic interior designer Miles Redd. The ultra violet sofa anchors the space with bold color while both the lemon yellow and apple green chairs bring balance. Ceramic side tables in turquoise contribute to the room's symmetry.
Colorful Butterfly Wallpaper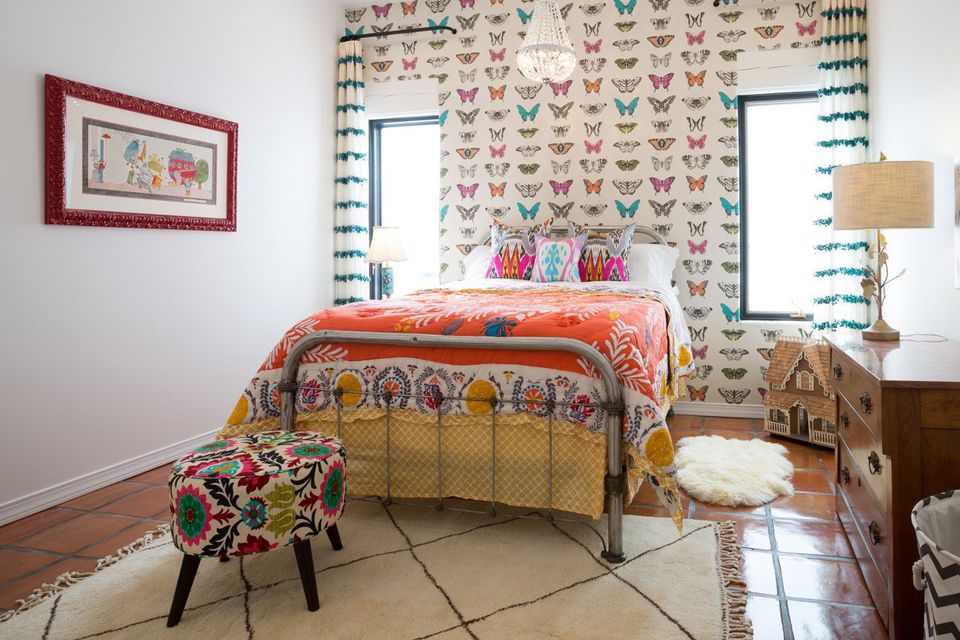 Butterfly wallpaper, an upholstered stool from Home Goods, Ikat print pillows and an embroidered quilt from Anthropologie are the things that colorize this otherwise white bedroom in a home remodeled by French and French Interiors.
Colorful Turkish Rug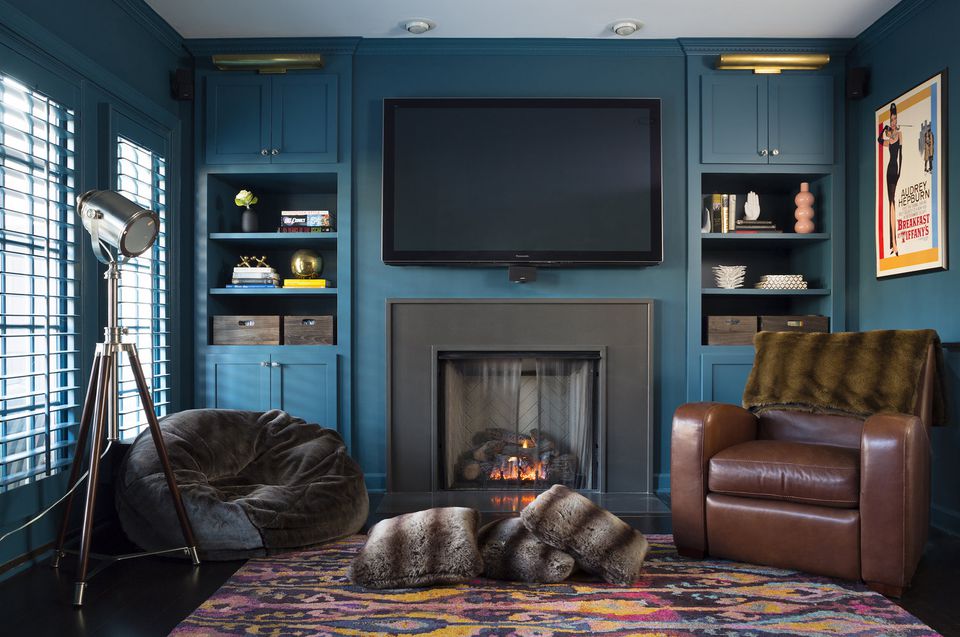 A moody shade of teal paint and an exuberant Turkish rug are the key ingredients that give this living room by Zoë Feldman its dramatic aesthetic.
Decorating With Mustard Yellow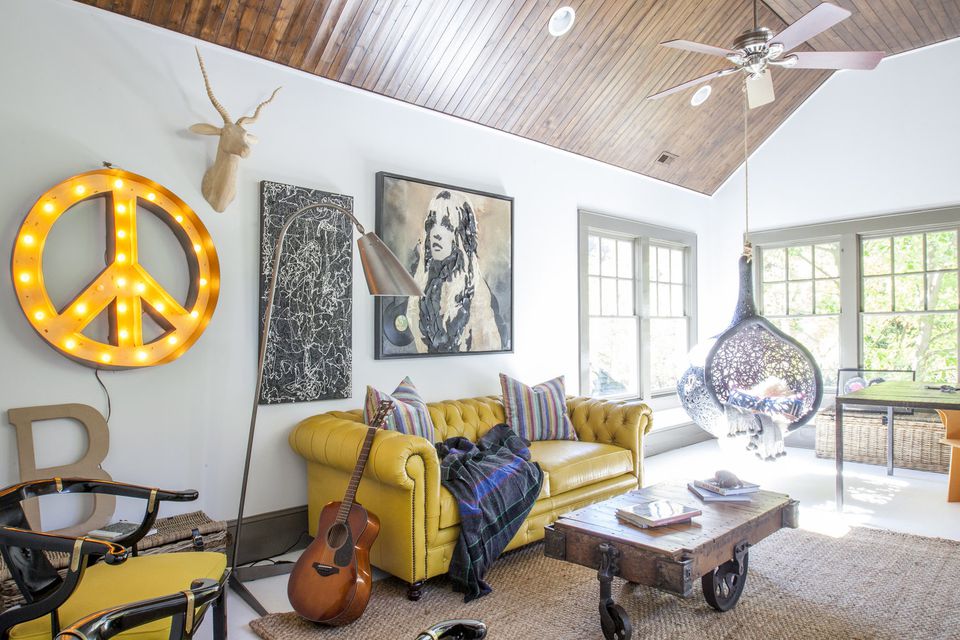 Mustard yellow décor brightens up this modern farmhouse-inspired home remodeled by Lucy and Company. We love how the hue can instantly refresh a space dominated by woodsy shades.
Related: 49 Gorgeous Modern Farmhouse Kitchens
Quirky Home Decor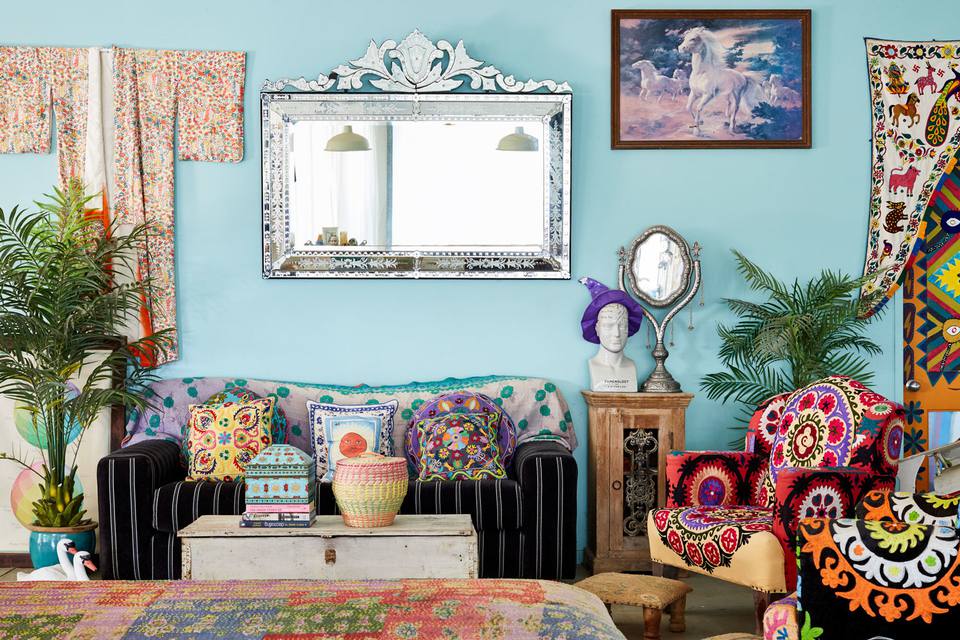 To be honest, we love bright hues and exotic patterns. So, of course, we fell head over heels when we spotted this living room by Alida and Miller. Here colorful textiles from around the globe warm up the bohemian inspired space with downright funky style. A horse painting picked up at a local thrift shop is a nod to 1970s counterculture. Quirky accessories like the decorative swans on the floor and the phrenology head on the end table are right at home in this unique space.
Brighten a Neutral Space With Colorful Curtains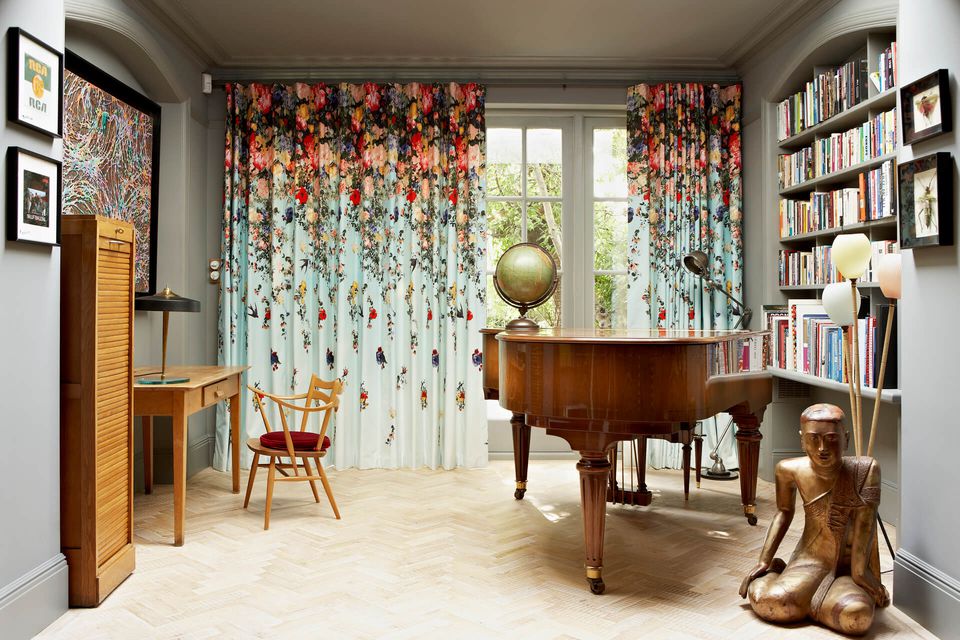 Godrich Interiors used colorful, floral curtains to brighten up a family den dominated by neutral furnishings. An abstract painting over the desk adds to the array of kaleidoscopic hues.