How to Bring Tribal Touches Into Your Farmhouse Décor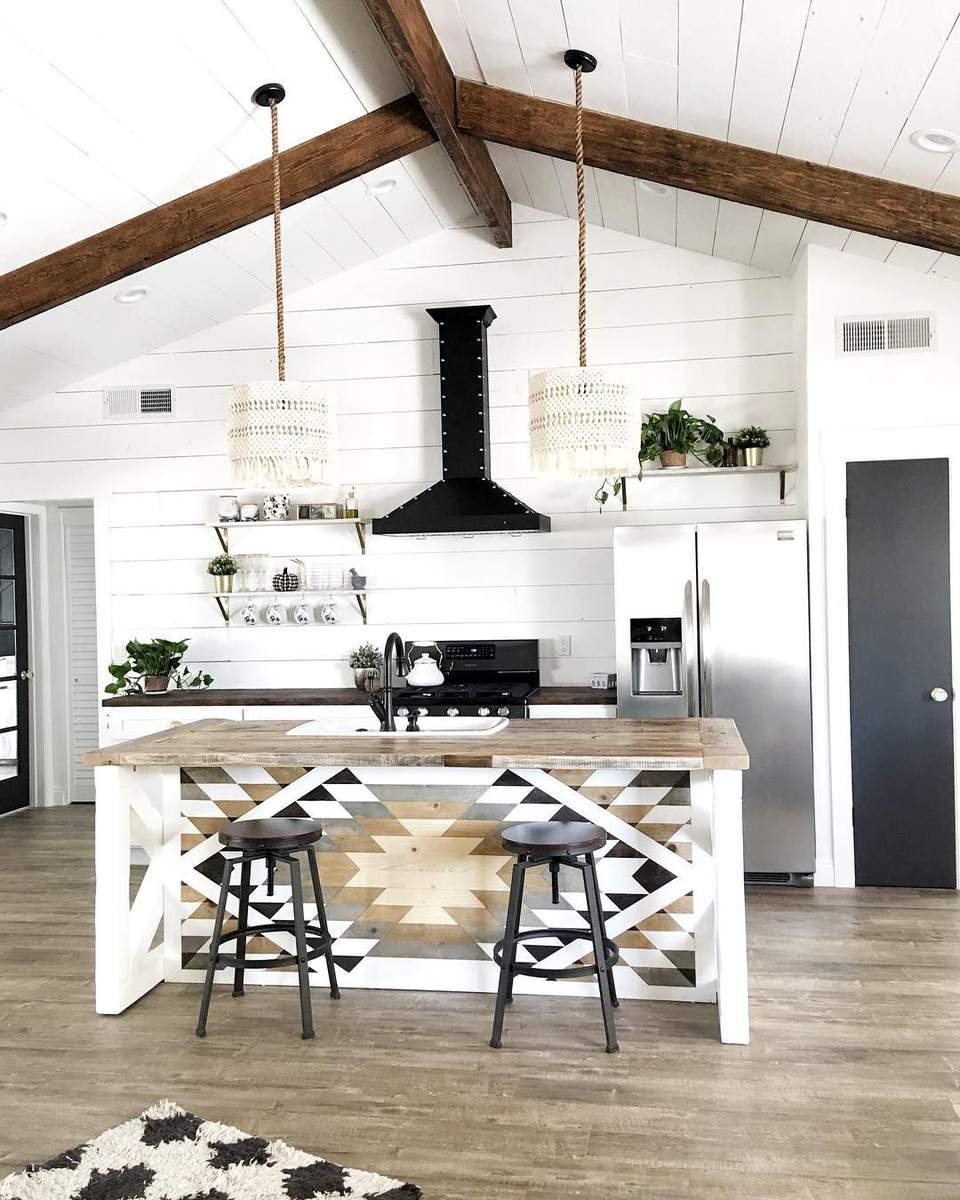 A Twist on Tried-and-True Farmhouse Decor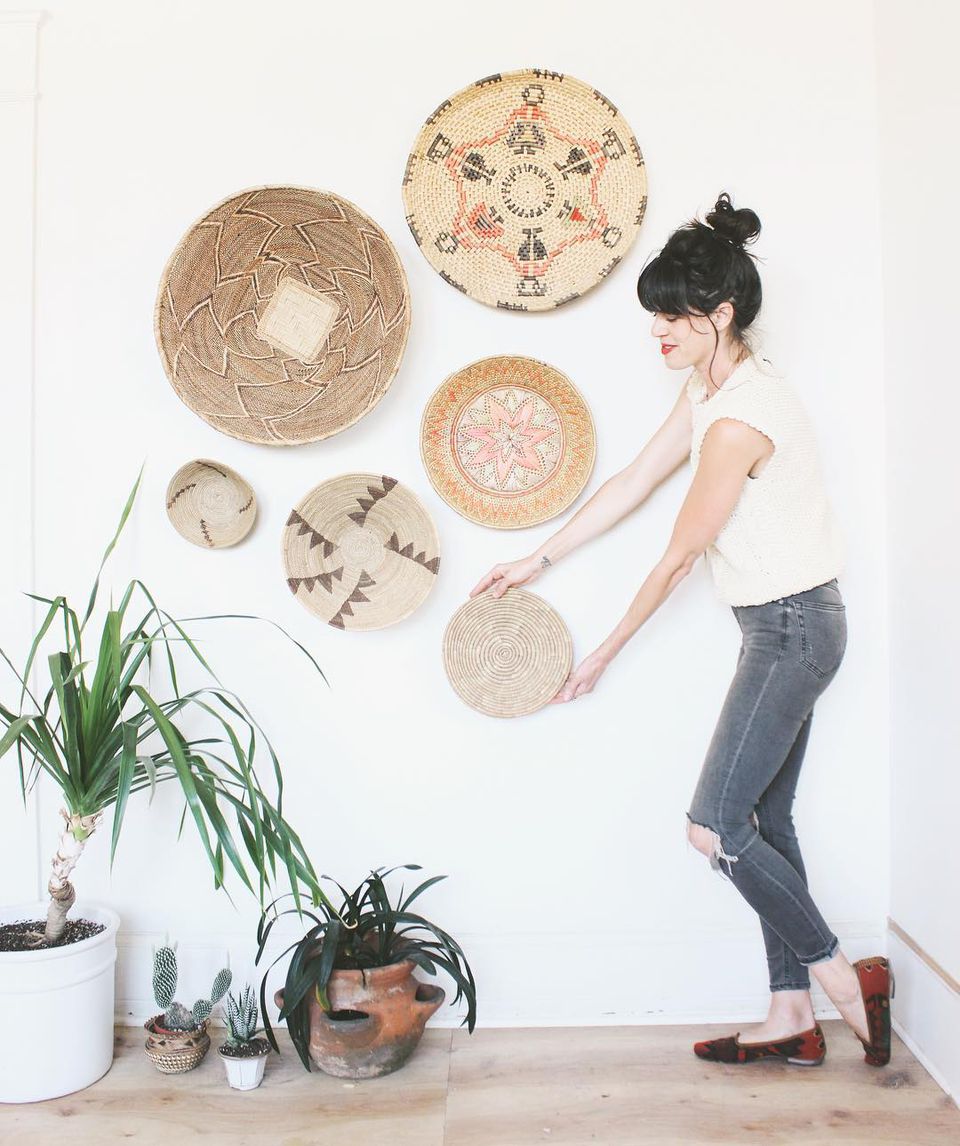 Ever since the farmhouse look first rose in popularity a few years ago, it has begun to be mixed with other décor styles to keep things fresh and right-this-minute. For example, the modern farmhouse trend has been gaining steam, marked by traditional farmhouse elements meshed with sleek lines, futuristic lighting and contemporary materials.
Now there's even a further twist on modern farmhouse styling. All of the expected farmhouse must-haves are there—shiplap walls, white interiors, vintage…MORE
An Oriental Rug for Visual Interest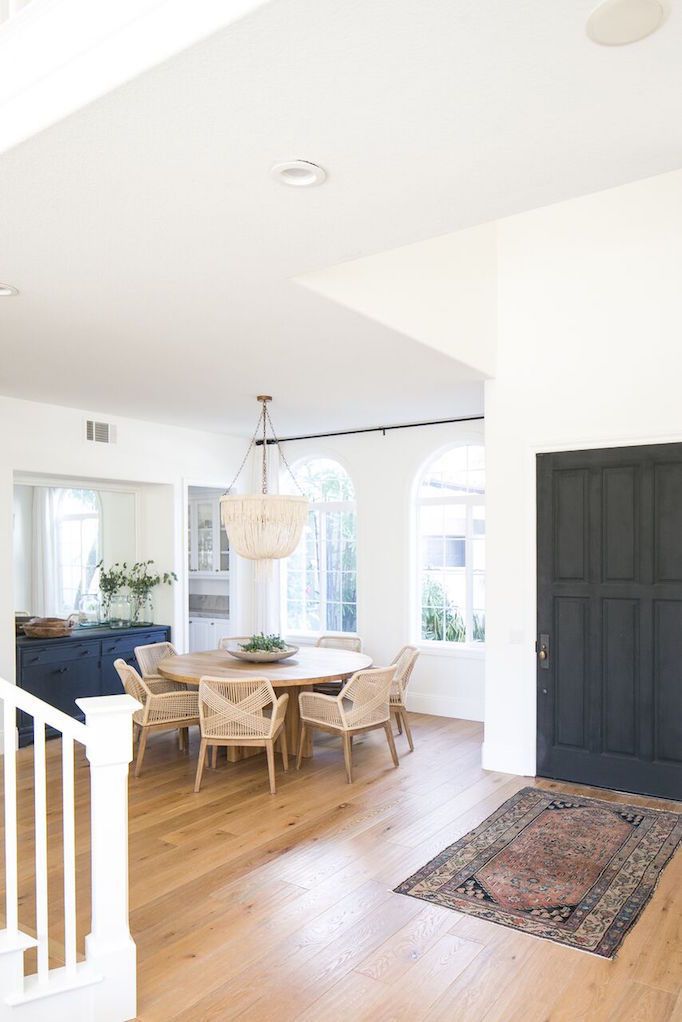 To bring a worldly touch into a farmhouse-style space, look no further than an Oriental rug. It will weave in the subtle color an all-white room might call for, and if it's vintage and a bit worn, it will fit in even better. Look for rugs on eBay and in antique shops, and lay one down in an entryway, under a coffee table or use it as a bathroom rug. Here, designer Becki Owens has used a small Oriental rug to carry patterning into otherwise light-hued surroundings.
Baskets or Weavings as Wall Art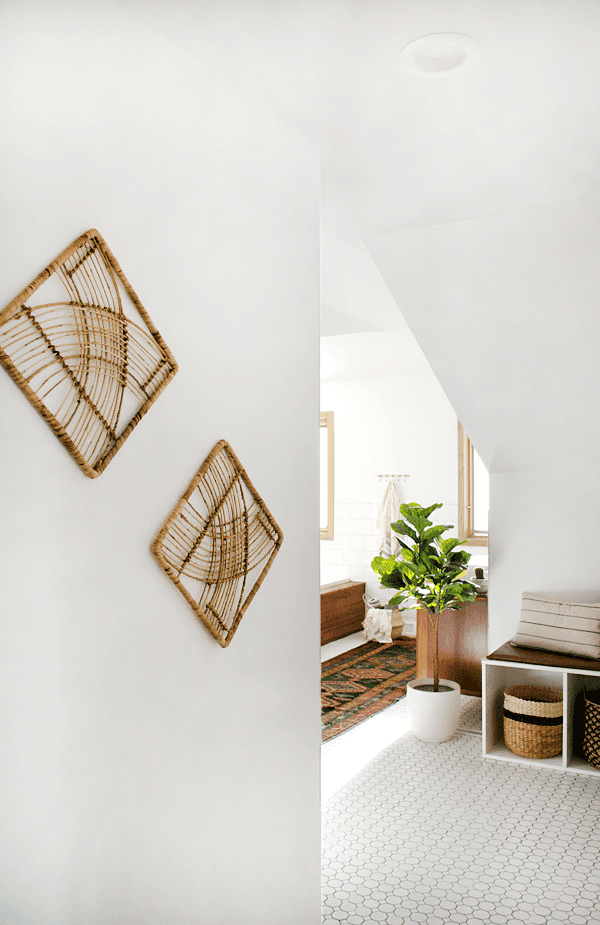 Nothing says that you're well-traveled like baskets or woven wall art that looks as if they were discovered in far-away places—even if you just found them at a vintage shop down the street. Baskets can work as beautiful hangings on a shiplap wall, or in this case, as Bre of Brepurposed has done, rattan wicker wall hangings represent a 70's avant-garde vibe in a bathroom.
Bold Patterns and Chevron Designs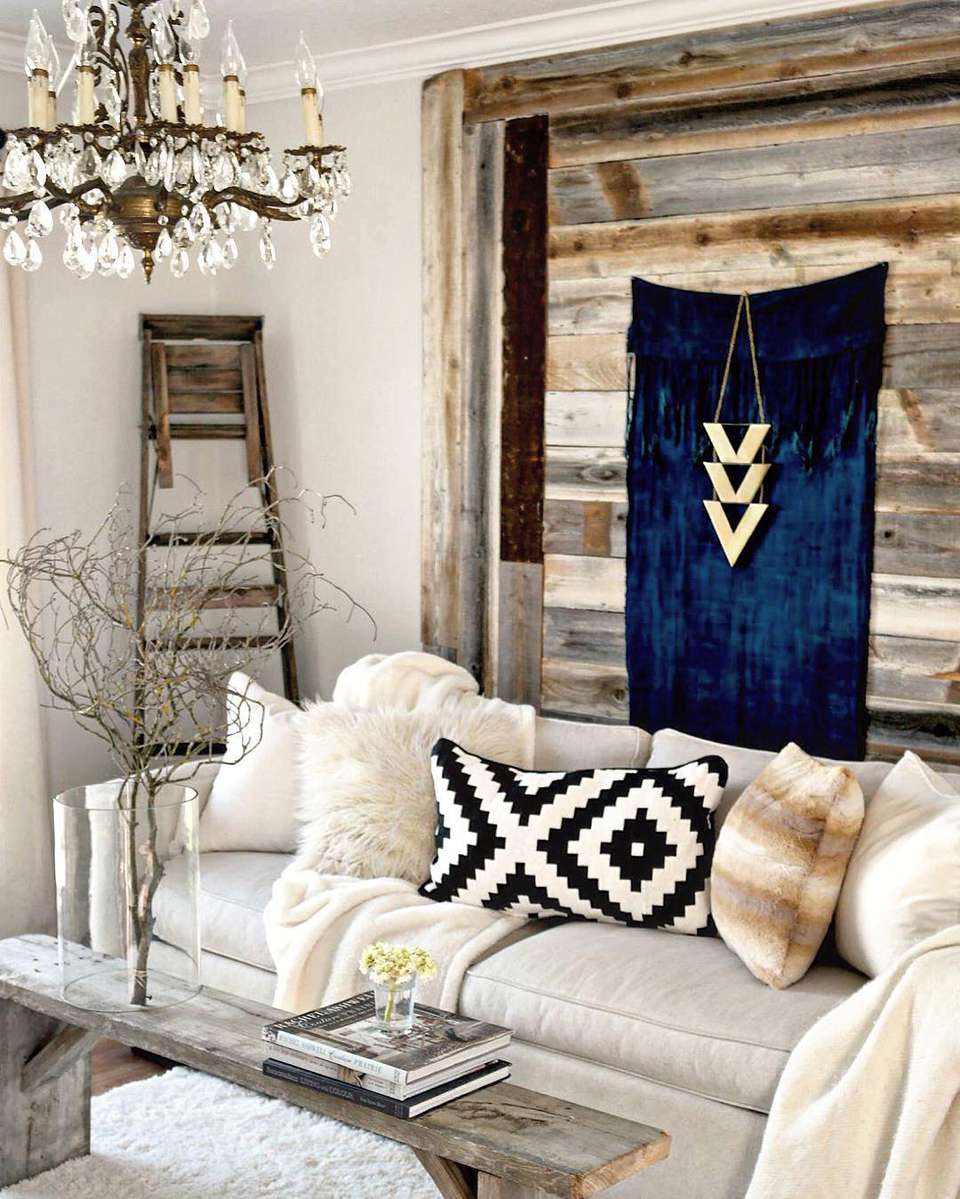 There are several things that are customary about the farmhouse style—barn wood, whites and creams, vintage-inspired lighting—but what's not customary are attention-getting tribal prints and chevron accents, and that's what can make a space even more visually appealing. In this living room, a black-and-white Ikea pillow and gold, metal chevrons hung over a wall tapestry act as unique details.
Furniture in Warm Woods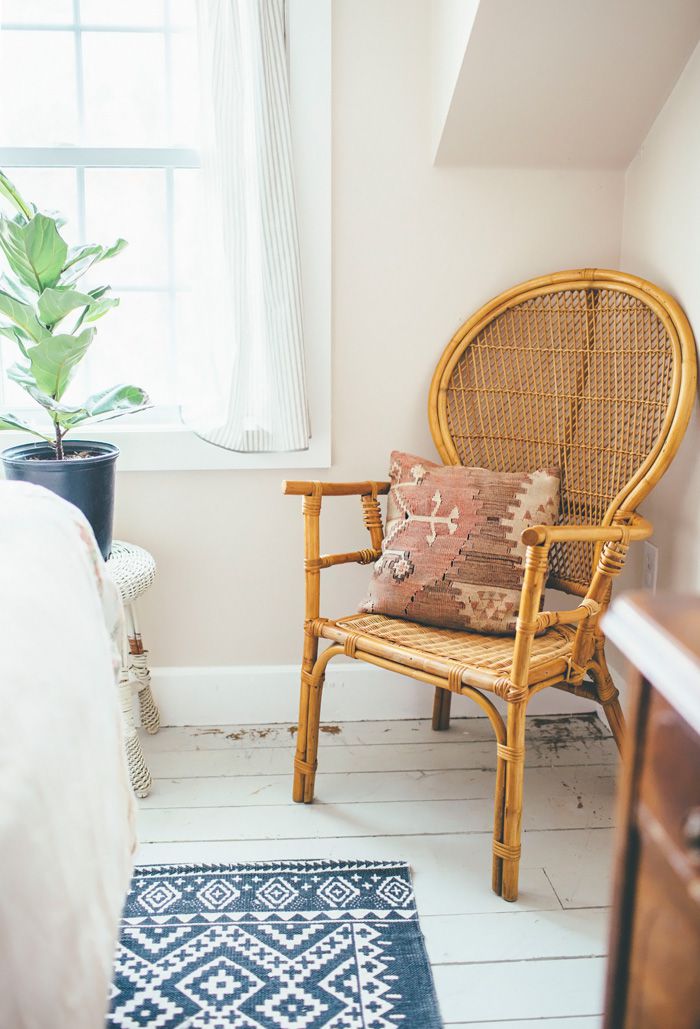 Warm woods, represented in rattan, wicker and other furniture pieces with a handmade look, are essentials of any bohemian space. In a farmhouse room, try touching on this trend through a vintage peacock chair or a simple, well-loved rattan chair. Alice of Thoughts from Alice scored this chair for $20 at a thrift shop, and it's just the thing this bedroom corner needed.
Macramé Décor Accents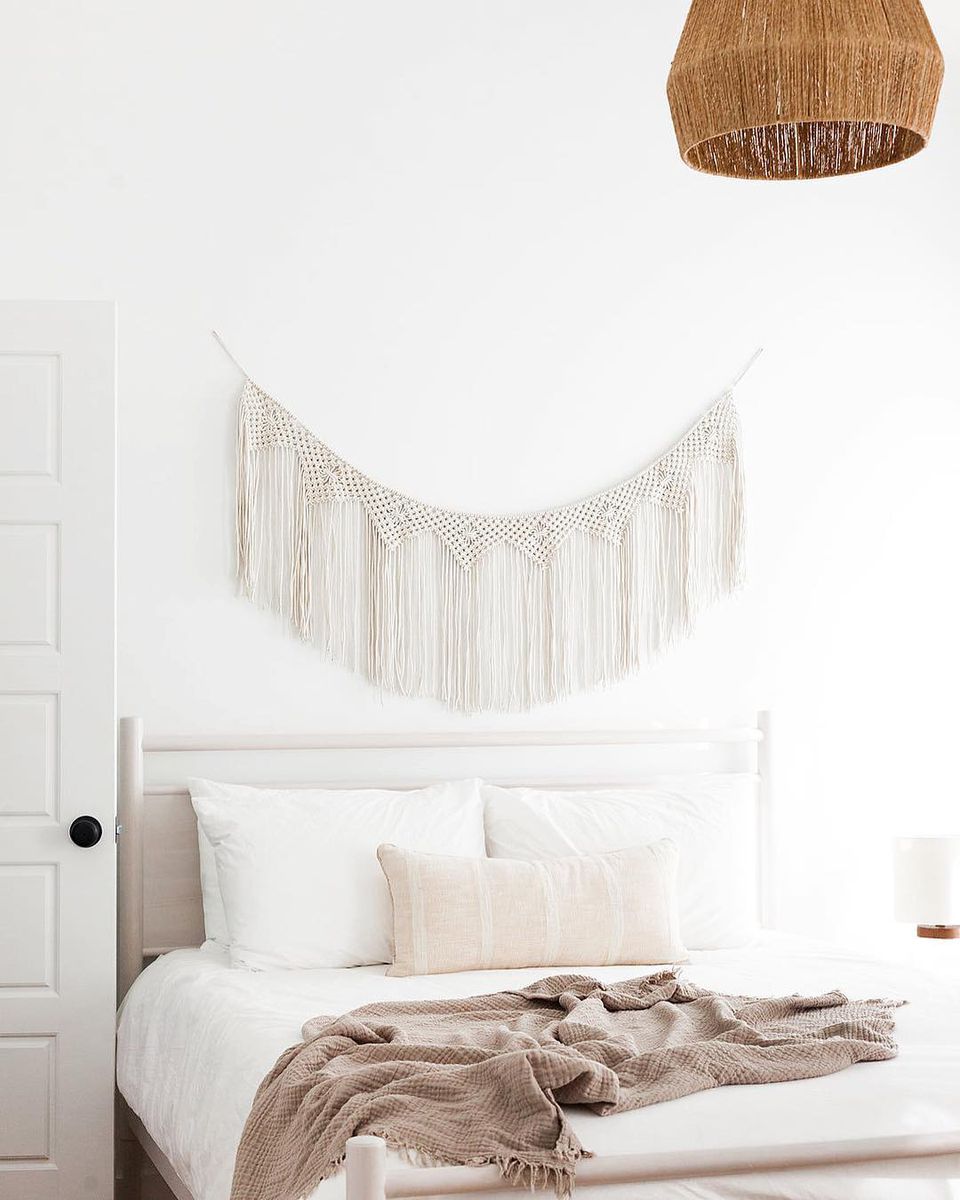 Is there anything that looks more 70's-esque than macramé? Today, these weavings are appearing less and less as owls and plant hangers and more as stunning, delicate wall hangings. Macramé is an unexpected element to bring into a farmhouse design, and can be placed above beds, doorways or couches.
Bold Black-and-White Pops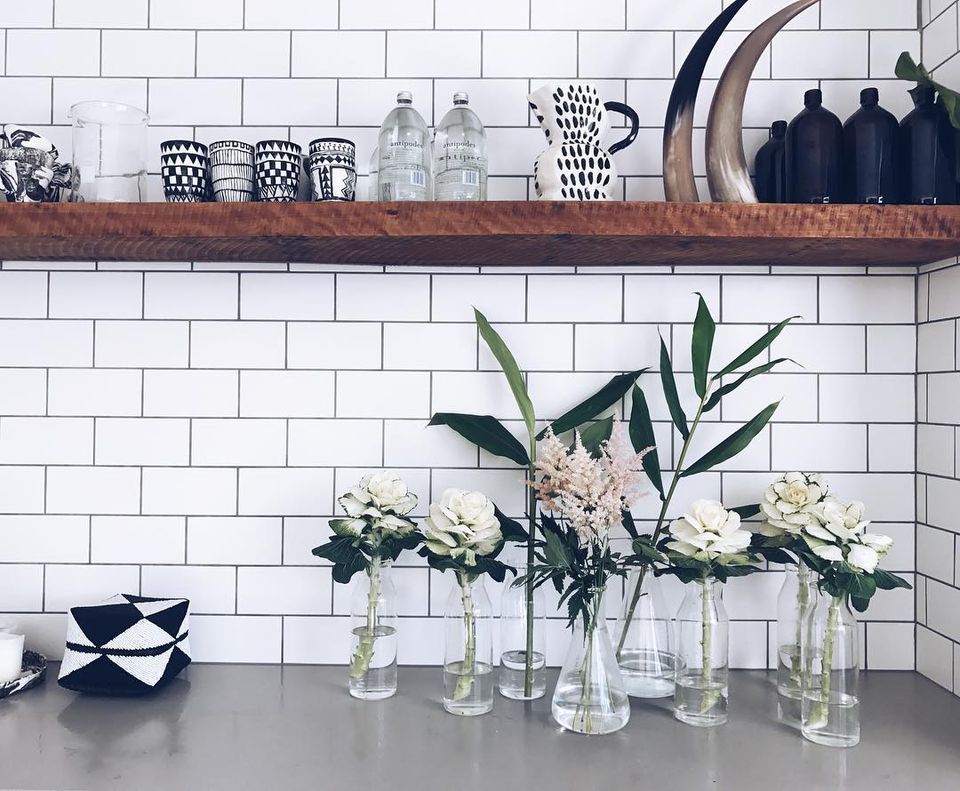 If you include black-and-white detailing in your farmhouse spaces, suddenly, your white subway tile serves as a crisp backdrop for conversation-piece décor. Black-and-white, hand-thrown pottery looks especially compelling and worldly.
Throw Pillows in Mud Cloth Fabric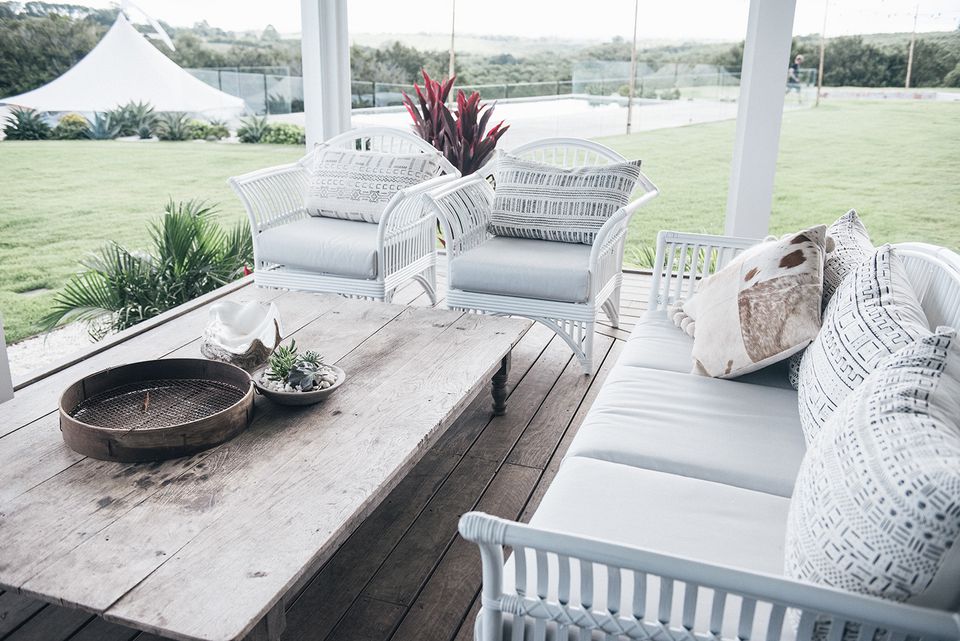 Mud cloth, a fabric that's become a sought-after trend, has its origins in Mali and was indeed originally made using mud. You can either try your hand at making your own cloth, or you can find it through online marketplaces like Amazon and Etsy. With their graphic patterns, mud cloth pillows can be a surprising print to add to a farmhouse space. Here, as featured on the Spell & The Gypsy Collective blog, mud cloth throw pillows punch up white wicker furniture and weathered wood.
Aztec Patterning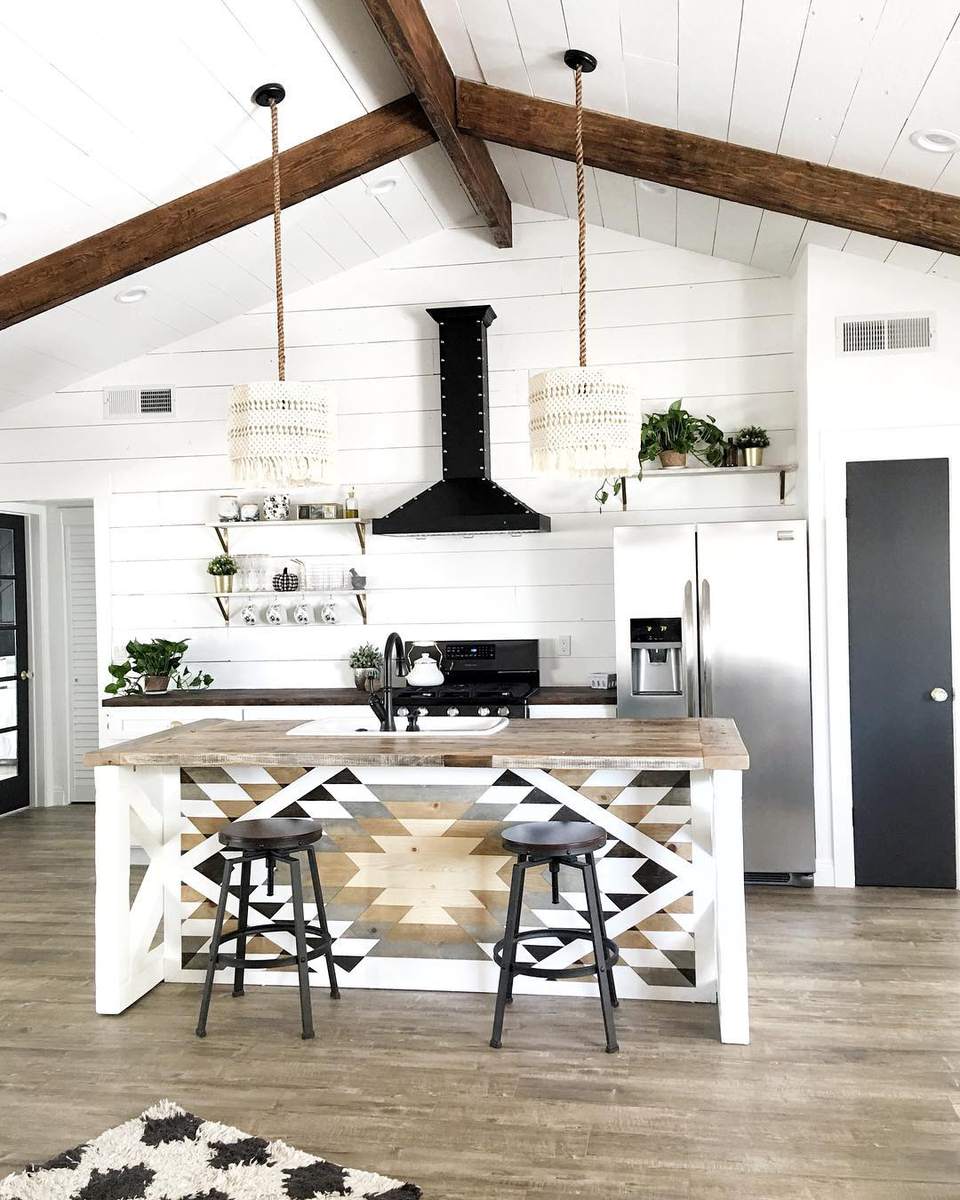 Aztec prints have been around for a little while, and have been mainly popular when it comes to clothes. Now those prints have found their way into home décor, acting as a refreshing surprise in farmhouse rooms. You can showcase the trend through blankets, linens, pillows, rugs or even kitchen backsplashes or islands. The print really turns heads when it's made up of inlaid, vintage wood, creating a crisp design.
Wooden Beads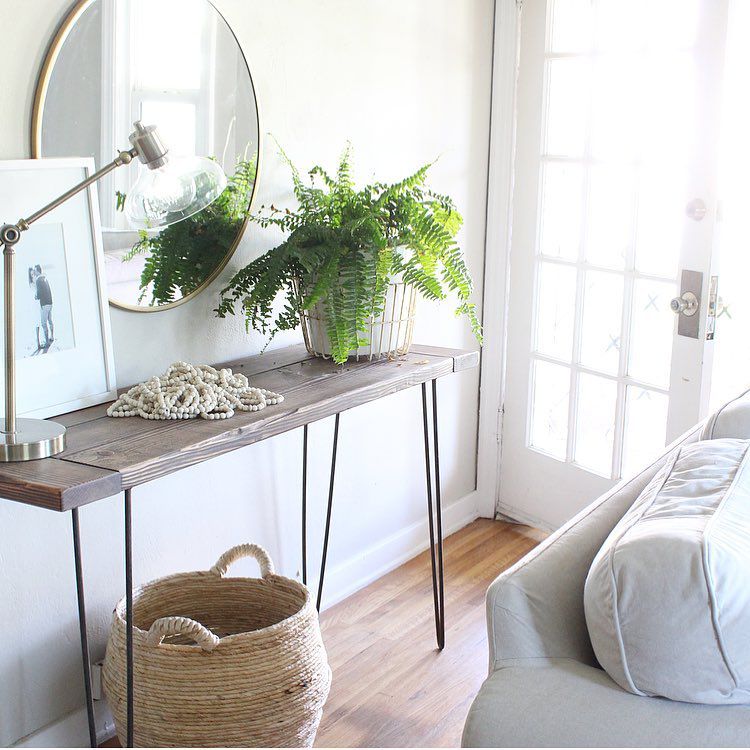 If you'd like to dip your toe into the tribal farmhouse trend, why not casually drape wooden beads in various areas of your home? Here, they add a little something to a console table, and juxtapose well with the metal hairpin legs. To keep in the farmhouse styling, just choose beads in a neutral color, and you'll have guests asking, "Where did you get those?" before you know it.