Corian Solid Surface Price List: Installed and Materials-Only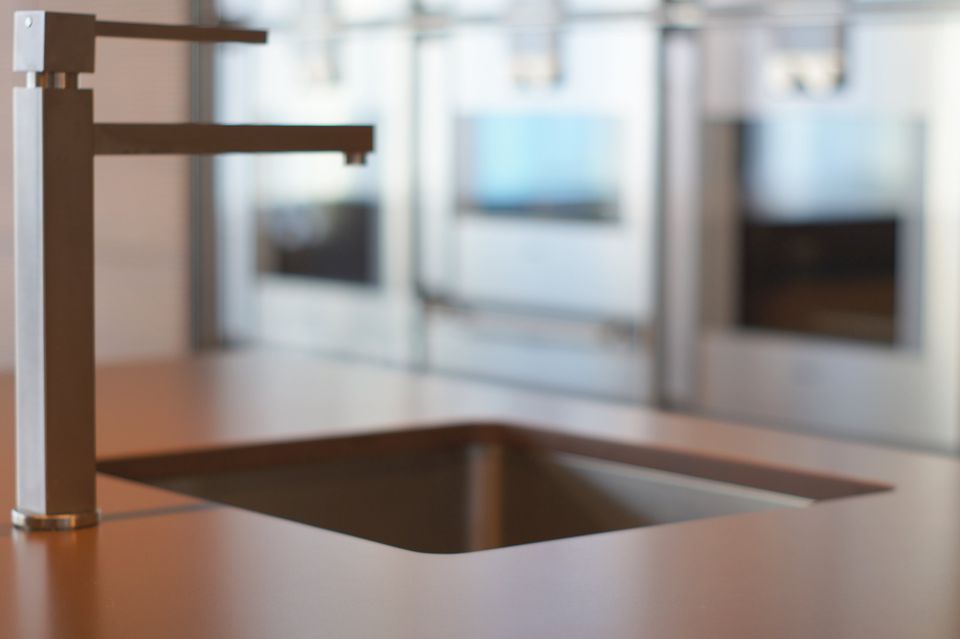 Corian is the original solid-surface countertop material made by DuPont.  Composed of about 33% binding resins and 66% minerals, Corian is not as "rock-like" as quartz/engineered stone counters, but visually it can pass as stone–from a distance–and is more solid and less hollow-feeling than laminate.
There are two pricing structures for Corian:  1.)  Fully fabricated and installed (material + labor); 2.)  Material only.
 Most consumers will purchase Corian as part of the first option.
Fully Fabricated and Installed Estimates
These estimates are for full Corian installations, materials and labor, including detail work, backsplash, and sink cutouts.
Estimate criteria:
Countertop Linear Feet:  28 ft.
Backsplash Linear Feet:  5 ft.
Edge:  Bevel
Sink Size:  22″ x 16″ Sink
Thickness:  1/2″
| | | |
| --- | --- | --- |
| Price Range | Material Name | Description |
| $2,196 to $3,050 | Abalone | Light, nearly pink creamy Corian with pale specks |
| $2,434 to $3,380 | Lava Rock | Dark and stone-like with bright speckles |
| $2,261 to $3,140 | Burnt Amber | Medium colored, busy patterned Corian emulating granite |
Prices for Corian can be difficult to discern because it is mainly sold through qualified retailers.  For a number of years, DuPont published complete price estimates.  While DuPont has stopped this practice, the price ranges listed below are kept up to date with inflation and industry-wide price movements.
True prices will change according to the type of Corian you purchase, installers you hire, and countless other factors. In all of the scenarios listed, the backsplash is the same material as the counter material.
Corian Materials Only
For years, it was been difficult, if not impossible, for the average consumer to purchase solid surface materials.
 Beginning in 2007, SolidSurface.com began selling remnants and overstock pieces of solid surface material online.
Roughly half of their offerings are for one sheet only–excellent if you need to add on to an existing kitchen counter or for a complete bathroom counter, but impractical for other uses.
Because so many of these products are too small to make an entire kitchen (a typical small size is 30″ x 36″), SolidSurface.com is best for smaller areas.
Partial and Overstock
Prices for one partial overstock sheet of Corian Night Sky from SolidSurface.com, including UPS shipping, is $26 per square foot ($23, without shipping).
Full Size
The cheapest large-size solid surface available in 2 or greater quantity goes for $23.38 per square foot for an overstock product called Earth 30″ x 144″ x 0.5″.  This is $611.40 for the sheet, plus $89 to ship it.
Fully stocked name-brand solid surface is more expensive, of course, but not much more.  For example, you can pick up an attractive Formica Marion Granite in 30″ x 145″ x 1/2″ sheets for $27.60 per square foot ($739 sheet cost plus $89 shipping).
Corian Pricing Information
DuPont invented solid surface and patented it, and when the patent expired, other companies rushed in and began producing solid surface counters.
  As one example, Samsung's Staron, like other competitor solid surfaces, is roughly composed the same as Corian.
Still, many homeowners and designers alike consider Corian brand to be the gold standard in solid surfaces.
One issue with being the "gold standard" is that, like gold, Corian's price constantly fluctuates and the reasons behind the pricing structure is are largely kept secret from consumers.
New, fresh-from-the-factory Corian and other solid surfaces generally cannot be purchased directly by consumers.  You must go through retailer-installers authorized by the companies to sell the product.
Pricing controls are one way that DuPont keeps its hand on the end-product.  DuPont, for instance, requires that fabricators take a hands-on course for certification before they can install Corian.