Tile Mortar Guide: Thinset, Mastic, and Epoxy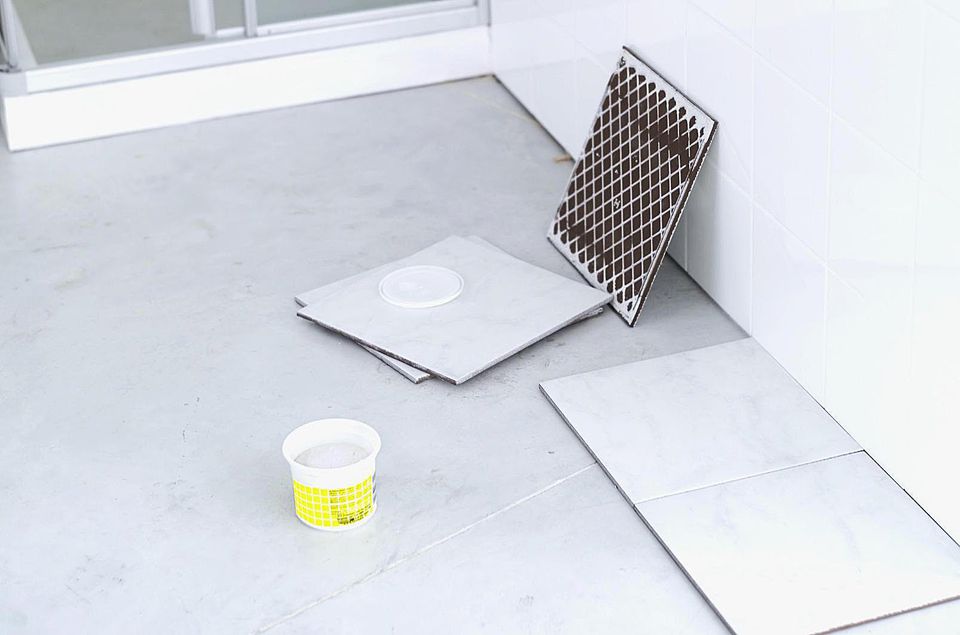 As you contemplate tiling, you are often confronted with a bewildering array of adhesives. It can be hard to know which kind of tile mortar to choose, but it can be broken down into four main categories.
1. Thinset
Thinset is your go-to tile mortar for most indoor and outdoor applications.
Thinset tile mortar provides a very strong bond and is resistant to moisture, though it is not impervious.
Since thinset tile mortar has a tendency to crack, you will most certainly be mixing the dry powdered thin-set tile mortar with a special latex additive.
Thinset tile mortar has a smooth, slippery consistency, similar to mud.
There are two main kinds of thinset tile mortar:
Dry, Powdered Tile Mortar. Difficult to mix properly if you do not have the proper equipment. Strongly recommend against getting dry thin-set mortar unless you have huge areas to cover (the dry mortar is far cheaper than the premixed mortar). You will need to add the latex additive to the dry mix.
Premixed Thinset Tile Mortar. This comes in big tubs, premixed and with the latex additive already in it. Even though it is heavy to carry home and more expensive than dry mortar mix, it is usually best for DIYers to use premixed mortar for spaces such as small bathrooms, mudrooms, or utility rooms. If you are dealing with multiple spaces, then you may want to consider dry mix in order to save money.
Why use thinset?
Cost: Due to its high mineral content, it is relatively inexpensive, even in pre-mixed form.
Long Working Time: It stays wet and workable for a long time; tiles do not stick to it immediately. This is a desirable property. You want tiles that you can jiggle around to get in the right position.
Leveling: Thin-set tile mortar also allows for you to level otherwise uneven surfaces to some degree. You cannot level wildly out-of-level surfaces, but you can bridge gaps and compensate for slight level changes.
2. Tile Mastic
A sticky tile adhesive best for lower moisture areas.
Mastic is a tile adhesive that is often confused with thinset. Use mastic for wall tiles or other vertical surfaces where you want tiles to stick immediately, and to stay stuck.
Unlike thinset tile mortar, the organic mastic does not let you level the substrate or the underlying surface. Use on:
Kitchen walls.
Bathroom and kitchen backsplashes.
Bathroom walls that do not adjoin bathing facilities. Many professional tilers recommend against using tile mastic for high moisture areas because it can degrade over time.
3. Epoxy Mortar
Epoxy is a resin-based compound that comes in three separate components: resin, hardener, and powder.
Epoxy sets quickly, is extremely strong, and will allow you to get to the grouting within just a couple of hours.
It is impervious to water, so it does not need any special latex additives, as does thinset.
Epoxy-based mortars have high compressive strength, bond quickly, stick well to resin-backed stones, and are chemically resistant.
One downside is epoxy's powerful smell and its great expense. Additionally, it sets quickly; this can be a deficit because it does not allow for you to make changes.
Due to the difficulty in mixing and working with epoxy mortars, they tend to be used only by professional tilers.
4. Brick Mortar Mix
As the name indicates, brick mortar is a coarse type of mortar that is used for outdoor bricks and stone.
Brick mortar has larger gauge sand and even small pebbles. It is ideal for mortaring brick walls and walkways.
Mortar mix is extremely cheap, running about $1 per ten pounds. It is never used for indoor flooring, though sometimes it is used decoratively for indoor brick or stone walls.
Uses:
Fireplaces
Interior decorative brick
Stone walls